ProtoNode
The ProtoNode is an external, high-performance, low-cost building automation and industrial control IIoT gateway for original equipment manufacturers (OEMs) that provides manufacturers connectivity to the cloud and instant multi-protocol deployment of field protocols, enabling new or legacy devices to easily interface with other protocols. With two Ethernet ports, the ProtoNode FPC-N64 allows data to move seamlessly across disparate subnets and supports physical segmentation for Cloud connectivity, allowing for enhanced LAN security from the WAN/Cloud.
OEMs can enjoy the benefits of the cloud connectivity through the SMC Device Cloud. The ProtoNode is SMC Cloud-enabled, meaning all ProtoNodes can be registered to the SMC Device Cloud, Sierra Monitor's device cloud for the IIoT. The SMC Cloud web interface lets users remotely access, in a secure fashion, the FS-GUI and custom web applications that are available locally on the ProtoNode. These applications offer functionality for configuration, monitoring, logging, security, diagnostics, and updates.
This product is protected by FieldSafe.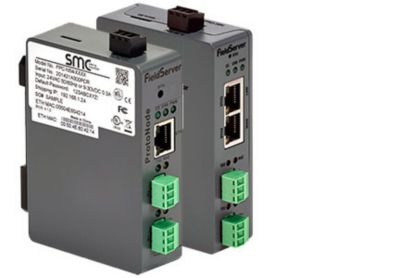 1. SMC Device Cloud support
Register your ProtoNode to the SMC Cloud interface for remote access to local applications, configuration, and device management
2. Serial or Ethernet Environment Support
Provide multiple protocol support for any protocol translation as a full-featured, field-programmable OEM protocol gateway solution
3. BACnet Protocol Experience
Use the ProtoNode to translate between BACnet MS/TP and BACnet/IP protocols, reduce traffic over a BACnet network by providing fast data communication, and easily connect to remote BACnet networks
4. Multi-Client Support
Ensure interoperability between any industrial and/or building automation protocols with one or more of the 140+ protocols supported by Sierra Monitor
5. Advanced Auto-Discovery
Automatically discover known devices on the network and be configured to provide the protocol translation necessar
6. Configuration Auto-Selector
Via DIP switches. Enable manufacturers to pre-load multiple predefined configuration
7. VPN
OpenVPN allows users to remotely connect local software to their remote site ethernet devices via FieldServer for software updates and changes
8. Proxy Tunnel
An SMC Cloud feature that allows users to view the web page on their remote device via the remote
FieldServer
9. ProAttach
This FieldServer feature assists users enter valuable site information to enable rich analytics when analyzing or diagnosing data from all sites via the SMC Cloud
10. Virtual Data Points
A rich Edge Gateway feature that enables manipulation of device data on the FieldServer to produce useful data using a JSON logic engine embedded in the FieldServer Gateway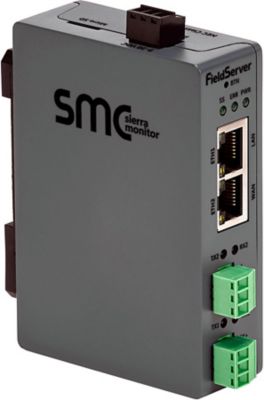 Model Numbers

FPC-N54 - ProtoNode with RS-485 (replaces N34)
FPC-N35 - ProtoNode with LonWorks
FPC-N36 - ProtoNode with RS-232
FPC-N37 - ProtoNode with KNX
FPC-N64 – ProtoNode with two Ethernet port

Power Requirements

Power: 9-30 VDC or 24 VAC

RS-422: 15-30 VDC or 12-24 VAC

Current draw @ 12V:

FPC-N54 @ 12V = 240 mA
FPC-N35 @ 12V = 250 mA
FPC-N36 @ 15V = 200 mA
FPC-N37 @ 15V = 210 mA
FPC-N64 @12V = 240mA

M-Bus:

Slave: 550 mA @ 12V
Master (1 Slave): 580 mA @ 12V
Master (64 Slave): 980 mA @ 12V

Environmental

Operating Temperature: -40º to 167ºF (-40º to 75ºC)
Relative Humidity: 5-90% RH, non-condensing

Enclosure

N3x (classic) form factor:

Dimensions: 4.5 x 3.2 x 1.6 in. (11.5 x 8.2 x 4.0 cm)
Weight: 0.4 lbs (0.2kg)

N54 & N64 form factor:

Dimensions: 4.0 x 1.1 x 2.7 in. (10.2 x 2.8 x 6.8 cm)
Weight: 0.4 lbs (0.2kg)

Communications

Serial RS-485:

Galvanic isolation
Baud: 9600, 19200, 38400, 57600, 76800, 115200

Ethernet:

10/100/1000 BaseT (N64)
10/100 BaseT (N3X)
MDIX
DHCP

BACnet Support

Alarm & Event notification read properties multiples
BACnet COV's Trend Logging, BBMD and optional BACnet Router support
Support up to 10,000 BACnet Objects
DIP switches are for setting MAC Address, Node-ID, Baud Rate on the RS-485 Field protocol

Approvals

BTL Certified
UL 60950-1

CAN/CSA C22-2
RoHS Compliant
DNP3 Conformance Tested
CE

FCC part 15

WEEE

Warranty

Two years return to factory
Please contact the OEM vendor of your ProtoNode to ask for the Start-up guide for the specific ProtoNode. The output protocol can be configured a number of different ways on the ProtoNode and the OEM Vendor will have the correct documentation on how to set it.
The ProtoNode mapping has been pre-configured and approved by the OEM Vendor. MSA Technical Support is not authorized to change it. Please contact your OEM Vendor to inquire about any modifications to the mapping.
Please contact the OEM vendor of your ProtoNode to ask for the Start-up guide for the specific ProtoNode. There are several ways of changing the Device Instance on a ProtoNode Gateway and the OEM Vendor will have the correct process documented in their Start-Up guides.
Recovery Mode occurs when an internal Module of the ProtoNode firmware has suffered a crash or corruption. A firmware upgrade will be required to resolve.
i.) Take a Diagnostic Capture and Contact Technical Support
Download and install the FieldServer Toolbox. (https://www.sierramonitor.com/downloads/FieldServer_Toolbox)
Connect to the ProtoNode's Ethernet port
Hit the Diagnostic button on the FieldServer Toolbox
Take a 5-minute, Full Diagnostic of the ProtoNode
Email the zip file to smc-support@msafety.com. Be sure to include your observations and what you would like Technical Support to check